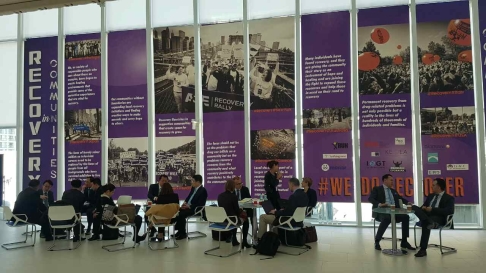 ECAD is a network for European cities exchanging best practices in substance addiction prevention, treatment and recovery, acting in support of the UN conventions on drugs. ECAD serves the interests of its member cities by offering knowledge and tools for the communities to support their actions and policies, preventing drug use, reducing harm and facilitating recovery.

ECAD was founded in 1994 by Mayors of European cities concerned with illicit drug use and its consequences for their municipalities.

ECAD`s vision is a society free from drugs and our work rests firmly upon the spirit of the UN conventions, which limit the use of narcotic drugs to solely medical and scientific purposes in ECAD's member cities.

We seek to be a positive force for an ambitious drug policy and aim to reduce both drug availability and demand, as well as the societal and individual impacts of drug-related harm and addiction. Our main goals are to prevent use, improve addicts' quality of life and decrease the number of deaths due to overdoses of non-medical drug use.

ECAD organizes conferences, projects and education in its member cities, in the UN system and at the EU level.
Since 1994 ECAD have organized Mayors Forums in the following cities.
E C A D A N N U A L M A Y O R S' C O N F E R E N C E S

1994 Stockholm, Sweden

1995 London, England

1996 Athens, Greece

1997 Paris, France

1998 Lugano, Switzerland

1999 Valletta, Malta

2000 Cork, Ireland

2001 Belfast, Northern Ireland

2002 Reykjavik, Iceland

2003 Stockholm, Sweden

2004 Cyprus

2005 Oslo, Norway

2006 Vilnius, Lithuania

2007 Istanbul, Turkey

2008 Warsaw, Poland

2009 Göteborg, Sweden

2010 Gozo, Malta

2011 Varna, Bulgaria

2012 Killarney, Ireland

2013 Moscow, Russia

2014 Stockholm, Sweden

2015 Swieqi, Malta

2016 Stavanger, Norway

2017 Kaunas, Lithuania