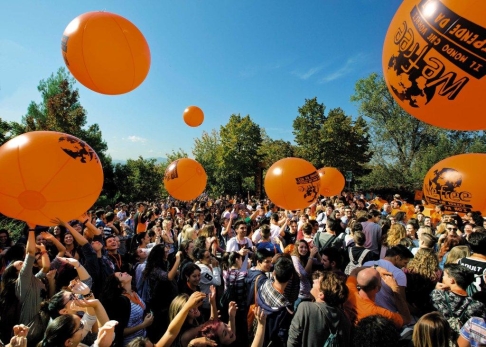 World Federation Against Drugs (WFAD) is a multilateral community of non-governmental organisations and individuals. Founded in 2009, the aim of WFAD is to work for a drug-free world.
The members of WFAD share a common concern that illicit drug use is undercutting traditional values and threatening the existence of stable families, communities, and government institutions throughout the world.

The work of WFAD is built on the principles of universal fellowship and basic human and democratic rights. We believe that working for a drug-free world will promote peace, human development, democracy, tolerance, equality, freedom and justice.

WFAD believes that it is important to identify and promote good examples of policies and programs that are efficient and make a difference to reduce drug abuse. Every day of the year, in all corners of the world, people do important work to prevent drug abuse. It is important for those involved to get to know each other, exchange experiences and establish networks across borders and between continents.
Countries have worked together for over 100 years in order to prevent the problem of abuse of narcotic drugs. Much has been achieved by this but all the same millions of people in the world are addicted to drugs and much, much more can be done in the future to prevent young people from experimenting with illegal drugs and thus expose themselves to the risk of becoming addicted.

World Forum Against Drugs is a meeting place for people from all continents who are working to prevent drug abuse at grass-root, on a voluntary basis, professionally or as policy makers. The global forum is the only one of its kind where NGOs, self-help groups, treatment centres, scholars, local, regional and national authorities, politicians and other decision-makers, the business community, and others from around the world will meet to share ideas and experiences about the work against illicit drugs, based on a balanced and restrictive policy.
The 5th World Forum
was held in Vienna, Austria in 2016.
The focus areas for the 5th Forum were:
• The protection of the rights of the child from the illicit use of drugs
• Prevention strategies

The 4th World Forum
The three main themes at the Forum were:
• Cannabis and issues related to legalization of drugs, and potential consequences.
• Drug treatment and the criminal justice system working together.
• Issues concerning Gender-related differences and similarities.

The 3rd World Forum
The three main themes at the Forum were:
• Human rights and the right of the child to be protected from illicit drugs.
• Illicit drug use and trafficking problems of Latin America.
• Primary prevention and its role in drug policy.

The 2nd World forum
The three main themes at the Forum were:
• New research on cannabis
• The drug situation in subsaharan Africa
• Adult drug abuse and its influence on children
The 1st World Forum Against Drugs

The 1st Forum was hosted by a group of Swedish anti-drug organisations. After the first Forum these organisations founded the World Federation Against Drugs, WFAD, which would come to be the host of the following Forums